September 27th, 2005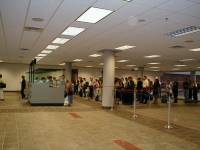 Halifax Airport Promotional Image (hmmm - looks like a long line to me)
Today was almost entirely a day of running around tieing up loose ends - as I expected. That said, it was still a good day - we got all our freshly drycleaned uniforms sorted - picked up the new ones after having their patches sewn on, did all our packing... packed off our dog Wyatt Erp to the friends for the following 10 days (he knew it was coming and was not pleased with us)
So we are basically all ready to go.
Hopefully Iīll be able to blog from the road and keep everyone informed - feel free to try and catch us on TV :)
---
RSS feed
Feed Description
All News RSS feed
Complete RSS feed
Bosunīs Log
RSS feed for: Bosunīs Log
A Rich Site Summary (RSS) feed is an xml data file that provides a summary of the information contained here. It is not designed to be viewed in your browser, but instead by rss reader software. If you do not know what this means - you can safely ignore it, as it is provided for advanced users with rss reader software only.