August 12th, 2011
The vessel tracker mapping system has been updated again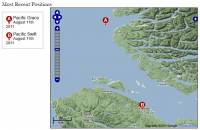 The vessel tracking system has been updated to include several enhancements that make it both easier to use and faster.As always, we have more in store but finding the time to fit it in around the īday jobī can be a real challenge!
In this more recent update the maps themselves have been switched over to the Google map data. This looks a bit better even if itīs a bit less accurate then the marine charts. This has the added benefit that the maps will load faster thanks to Googleīs world-wide content delivery network. In addition to this we added a series of back-end updates that further optimize the code allowing the maps to be generated faster as well.
A less visible change is our new Adobe Air app that is being used on the boats themselves to make reporting positions easier for the crew. The new app replaces a manual email system that was previously in use. We have plans to create a iOS and Android app soon as well but for the time being this is making things a lot easier and eliminating a lot of little glitches along the way.
---
RSS feed
Feed Description
All News RSS feed
Complete RSS feed
Bosunīs Log
RSS feed for: Bosunīs Log
A Rich Site Summary (RSS) feed is an xml data file that provides a summary of the information contained here. It is not designed to be viewed in your browser, but instead by rss reader software. If you do not know what this means - you can safely ignore it, as it is provided for advanced users with rss reader software only.