September 18th, 2005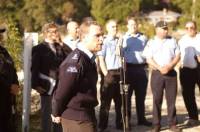 I get to MC the dedication
At Coopers Green in Sechelt on Sept 17th 2005 we were finally able to formally dedicate the new Canadian Coast Guard Auxiliary - Pacific Rescue Vessel. Although Kellei and I have only been in the unit for 2 years people have been working towards this for longer. Many events, research, applications, and vast amounts of volunteer time have all come together to make this a reality for us.
Iīve gone on
About
how cool the
Boat
is in previous posts - so Iīll talk more
About
how cool it was to actually
Hold
the ceremony here!
A TOTAL BLAST!
we had visitors up from Gibsons, How Sound, Pender Harbour, Powell River, and Victoria. The Sale from Merry Island was tons of fun - and we raised over $600 there and $200 with a 50/50 draw to help pay for the
Boat
(we still own
About
$16K of the total $160K) and considering that had it not been for the 50/50 and the donation of the Merry Island items we would have lost money - that was an awesome turnaround.
The best part though - was giving the rides - for the first time we were able to take people out in rides in the
Boat
(because we own it now) and what an amazing effect it had! I even got to take my mother out (made her get in a cruiser suit and everything!) - She loved it.
Kellei and I did most of the rides and Tim took out several more. All with a glorious sunset in the
Offing
and a flat calm cool day - perfect - if it wasnīt I couldnīt have asked for better.
There are loads of photos in the CCGA-12 Album:
http://www.ccga12.org/gallery/?action=album&aid=698
---
RSS feed
Feed Description
All News RSS feed
Complete RSS feed
Bosunīs Log
RSS feed for: Bosunīs Log
A Rich Site Summary (RSS) feed is an xml data file that provides a summary of the information contained here. It is not designed to be viewed in your browser, but instead by rss reader software. If you do not know what this means - you can safely ignore it, as it is provided for advanced users with rss reader software only.