June 25th, 2007
One of the cool things we learned
About
at the World Maritime Rescue Congress was
AIS
- we already knew what it was, but never really played with it. Yesterday (my Birthday) I got an
AIS
receiver system working at home via a small hack into my HAM radio - with huge possibilities for the future...
Basically I had to solder a single wire into the īDiscriminator Outputī of the Radio Receiver = stick wire to small pin of microchip (laymanīs terms) This give me a special audio output and using a piece of software called ShipPlotter I can decode the digital
AIS
signals from ships in our area and plot them on a map.
The cool bit is that I can send this data to another server (of my choosing) and thereby do other "stuff" with it... namely something on the TrackNav system!
There are huge possibilities here for application to the
SMS
- including some automatic tracking of
SAR
vessels and recoding their track during incidents and training runs. I have a lot more playing to do first - and I donīt think too many (if any) if the
CCGA
vessels actually have
AIS
transponders yet - but they are not too expensive and Iīm going to try and arrange some kind of trial system. There is potential for using this same system for tracking the SALTS vessels in the summer as well.
In other news Wyatt and Kellei are both mending well - Our return home was marked by joint convalescing time for the pair as Wyatt recovers from a pair of herniated disks and Kellei recovers from shoulder surgery (something she has been waiting for since two years ago - a workplace injury) Iīm doing my best to keep them both happy and catch up on work - it sounds hectic, but weīre used to that and weīre all still smiling!
---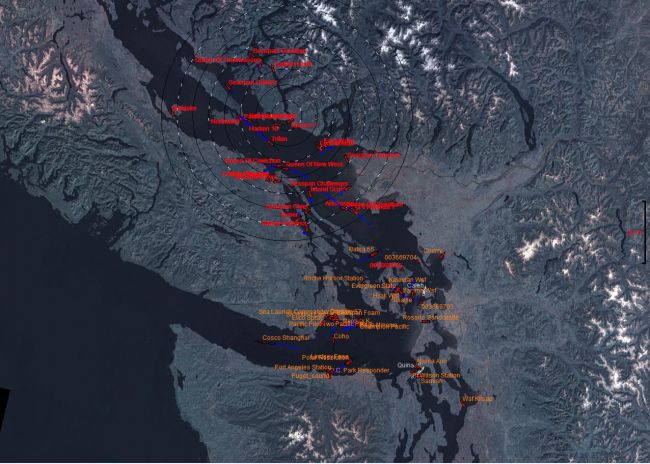 local vessel traffic
RSS feed
Feed Description
All News RSS feed
Complete RSS feed
Bosunīs Log
RSS feed for: Bosunīs Log
A Rich Site Summary (RSS) feed is an xml data file that provides a summary of the information contained here. It is not designed to be viewed in your browser, but instead by rss reader software. If you do not know what this means - you can safely ignore it, as it is provided for advanced users with rss reader software only.