June 14th, 2007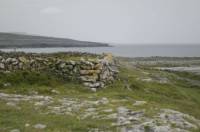 The Burren
Today we experienced the rugged beauty of the west coast of Ireland in all itīs glory and drank deeply of all that we could. From the
Burren
to the
Cliffs of Moher
and the friendly people in
Doolin
- a wonderful day all around...
We started today very casually sleeping right through breakfast and getting going with the expectation of a lunch on the road. Our ultimate destination was
Lahinch
with a stop at the
Cliffs of Moher
along the way. We started out from Galway and proceeded Southeast noting a group of motorcycle riders all in red and black suits stopped along the side of the motorway outside Galway (more on them later) We passed through Ballinderreen (say that five times
Fast
) and continued along the N67 to the East. The countryside here is beautiful with lots of the dry stone walls that the area is famous for. Gerry elected to take us along the coast rather then cutting across directly to Lahinch - weīre grateful that he did: This takes us through the
Burren
: a rugged landscape that almost looks like a mountain made after someone piled up millions of rocks and stones. From "
The Burren Page
: a karst limestone region of approximately 300 sq km which lies in the north west corner of Co Clare, in Ireland. It is composed of limestone pavements, which are eroded in a distinctive pattern known as karren. This pavement is crisscrossed by cracks known as grykes and underneath the pavement there are huge caves and rivers that suddenly
Flood
when it rains."
In short it was spectacular enough driving through it that we stopped to get out and explore for a while. The sea was unusually calm so we missed the added īruggednessī of pounding surf - but the rocks and bleakness of the landscape was spectacular enough.
We continued along to the town of Doolin where we stopped at the local pub
McDermotts
for lunch and a Pint. Here we must take a bit of a sidetrack to make note of "Bulmerīs Cider" - now as you may or may not know Kelleiīs maiden name is Bulmer and before this trip I had no idea that such a thing existed as
Bulmerīs Cider
but we noticed it on the first day and since then itīs been a bit of a mission for Kellei to collect some Bulmers trinkets along the way. Enter Carol from McDermottīs Pub in Doolin - who not only passed along 5
Bar
coasters emblazoned with the Bulmers Logo - she also went home and got a new Bulmers shirt she happened to have (still in the wrapping) and gave Kellei a Bulmers bar-mat - You truly canīt
Beat
this kind of hospitality! Besides all of this the lunch we had there was absolutely fantastic - so may we kindly recommend, should you ever travel to the West Coast if Ireland that you pay a stop in McDermottīs Pub in Doolin and make note of the Canadian Search and Rescue Team Badge affixed to the wall behind the
Bar
that Kellei left with them as a memento.
If all this wasnīt enough - remember that motorcycle riders in red and black? well the entire Italian Club who had been at the TT races on the Isle of Man entered the pub next and we managed to all have a good few laughs
About
the weather in broken English, Italian, and Spanish (well it was worth a try) before we carried on after lunch!
Itīs not far from Doolin to the
Cliffs of Moher
- and these were spectacular - unfortunately (and probably more from Gerryīs perspective then ours) they have become more of a typical tourist attraction complete with tour busses and a multimedia exhibit then the just the rugged beauty of these stark cliffs stopping short at the North Atlantic. It was well worth it none the less and we certainly donīt regret going - but we could see and understand Gerryīs disappointment as we knew he was hoping to show us something a bit different then what we actually got to see. Itīs still fun to think though that, as gerry put it, "... the next parish is North America" looking out to sea.
The drive home was more of the same with a few stops to ogle at castles and keeps along the way and another session of "cow status" as we returned to Galway and an eat in some greasy take-away from a "chipper" We watched a bit of the tube before bed and I doubt we could have asked for a better and more complete day.
---
RSS feed
Feed Description
All News RSS feed
Complete RSS feed
Bosunīs Log
RSS feed for: Bosunīs Log
A Rich Site Summary (RSS) feed is an xml data file that provides a summary of the information contained here. It is not designed to be viewed in your browser, but instead by rss reader software. If you do not know what this means - you can safely ignore it, as it is provided for advanced users with rss reader software only.