June 13th, 2007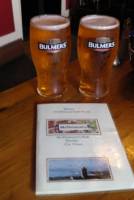 Bulmerīs For Dinner
We started somewhat early today and headed up to Galway to start are sojourn in the West of Ireland - a beautiful drive and much relaxation to be savored by all.
We identified a pressing need the night before and had to stop to
Purchase
a new camera card - our two 1Gb cards were both full and so was the laptop - this after weīve been uploading photos to our home network to free space - but that is very slow going. So we stopped first to pick up a new card an got a good deal on a new 2Gb 80x card that is exactly what the business needed anyway.
As we drove across the country it was fun to watch the landscape change and keep a running commentary on the
Current
"Cow Status" as it seemed that the local Cows were either all standing or sleeping at roughly the same time in a rotating cycle (it was a four hour drive and perhaps we were reaching - Kellei has a lot of cow photos)
Gerry had arranged for the loan of a friendīs house in Galway and it was a great place to
Stay
- a townhouse in a quiet neighborhood atop a store and near a pub. On arrival into Galway as lame as this may sound all of us just crashed into bed for a good 3 hour nap - I think all the excitement had finally hit us and we all needed a break. We followed that up with a dinner at the pub (
About
50ī away) and then retired
Back
to the house for a movie and more sleep - not our most exciting day - but it felt wonderful!
---
RSS feed
Feed Description
All News RSS feed
Complete RSS feed
Bosunīs Log
RSS feed for: Bosunīs Log
A Rich Site Summary (RSS) feed is an xml data file that provides a summary of the information contained here. It is not designed to be viewed in your browser, but instead by rss reader software. If you do not know what this means - you can safely ignore it, as it is provided for advanced users with rss reader software only.