June 10th, 2007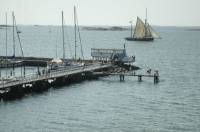 Looking out from the SSRS
Today is our last full day in Sweden and we took some time to visit the Swedish Sea Rescue Society office and get a bunch of news up on the IMRF web site...
The trip out also gave Kellei a chance to jump in the water - something she generally tries to do every time we travel anywhere. It was a relaxed day and we kept it that way but still got in a champion amount of work with Gerry, Veronica, Kellei and I all teaming up to blitz on trying to cover the entire last week in news articles for the IMRF. We all felt it important that when the delegates get home and
Check
out the web site - they will immediately get news from the past week on-line.
The office of the Swedish Sea Rescue Society is only a few weeks old and still smelled "new" Itīs a beautiful building right on the water overlooking the mouth of the Gote river and all the local recreational boats and several sailing clubs. Wile walking down the docks we noticed a vessel with 4 separate radomes (pictured) we have no idea apart from that is must be either a demo vessel or a training one - but we grabbed a snap none the less.
Kellei finally got a chance to grab some photos of the baby sea gulls that have been walking around on the roof directly across from our hotel room (as seen here) and we finished off our day with a relaxed light dinner in the hotelīs cafe. Watched a local truck driver have a 5 minute adventure trying to park with the entire cafe watching a laughing (we are 8 stories up and he didnīt know) and to top off the evening the hotel desk clerk opened up the spa for us (after closing) so we could enjoy a private hot-tub and sauna under the stars. This was the first time for a darkened trip up to the rooftop hot tub as weīre so far north here that it dosenīt get really dark until after midnight - and the spa normally closes at 2200h
---
More Images
---
RSS feed
Feed Description
All News RSS feed
Complete RSS feed
Bosunīs Log
RSS feed for: Bosunīs Log
A Rich Site Summary (RSS) feed is an xml data file that provides a summary of the information contained here. It is not designed to be viewed in your browser, but instead by rss reader software. If you do not know what this means - you can safely ignore it, as it is provided for advanced users with rss reader software only.