May 28th, 2007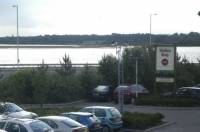 View from our room
Itīs been a long day
About
24h or it - but weīre installed in Poole now at the start of our trip to England, Sweden, and Ireland. It was a long flight from Vancouver and as we left we passed over the Langdale Ferry (our home run) likely with our dog Wyatt and Parents
Aboard
.
Our flight was very smooth and we arrived
About
30 mins
Ahead
of schedule - always appreciated on a 8h flight! At Heathrow we easily arranged our bus transport to Poole and after a "morning" Latte with kamikaze bird accompaniment, we boarded our bus and snoozed a bit on the way to Poole.
The hotel is basic as we expected but the sun has started to shine and is due to continue tomorrow as we have a walk through Poole and a hunt for a new Guernsey each planned.
Weīre both pretty tired and itīs time to turn in so weīll bid you all good night.
---
RSS feed
Feed Description
All News RSS feed
Complete RSS feed
Bosunīs Log
RSS feed for: Bosunīs Log
A Rich Site Summary (RSS) feed is an xml data file that provides a summary of the information contained here. It is not designed to be viewed in your browser, but instead by rss reader software. If you do not know what this means - you can safely ignore it, as it is provided for advanced users with rss reader software only.