April 28th, 2007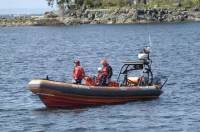 Myself, Shawn and Colin evaluating
Spent all day today down in Gibsons at the 2007 Sunshine Coast SAREX. A multi-agency training exercise for Search and Rescue. Kellei was the official photographer and I was acting as one of the evaluators.
The exercise was designed to involve
CCGA
,
CCG
, and GSAR members from the area. Seven vessels, the
CCG
Hovercraft Penac, and 4 teams of Ground
SAR
personnel all participated in a simulated vessel abandonment and rescue off Keats Island near Gibsons BC. The exercise took most of the day and was punctuated by a rather humorous exodus of all 6 marine
SAR
resources when a real distress call came in shortly after the exercise ended. In the end there was no distress and everything worked out OK.
During the exercise the hovercraft has put four of their divers in the water to act as simulated passengers who had abandoned
Ship
in the water and required rescue - this was a but of a shock to the event organizers who didnīt know this was coming - but everything worked out great and everyone was recovered.
My job was a bit tricky because I had to zip around from one scene to the next in our observation vessel trying to track 4 different teams on the water and watch them interact with the 4 teams on land. My Friend from
CCGA
Unit 1 (Howe Sound) brought over their 733 (our old vessel) and helped evaluate. It was great to see Shawn again as we had trained and traveled together as part of the 2005
ISAR
team. It worked as well as it could have and we managed to provide some valuable feedback to everyone involved at the end of the exercise.
Meanwhile Kellei was busy as the official photographer and is responsible for documenting this event via a load of fantastic photographs (
the Official Photo Gallery
)
A great day to have be in distress on the water near Gibsons - thatīs exactly what happened to one unfortunate (or should I say fortunate) mariner who ran
Aground
About
3 miles away. Within 2 minutes 6 rescue resources were speeding to the scene. It turned out that everything was fine - but it was pretty funny to watch all those boats take off at once!
We all had great fun and learned a lot - you canīt ask for more then that!
---
More Images
---
RSS feed
Feed Description
All News RSS feed
Complete RSS feed
Bosunīs Log
RSS feed for: Bosunīs Log
A Rich Site Summary (RSS) feed is an xml data file that provides a summary of the information contained here. It is not designed to be viewed in your browser, but instead by rss reader software. If you do not know what this means - you can safely ignore it, as it is provided for advanced users with rss reader software only.