April 16th, 2007
Sechelt BC, Canada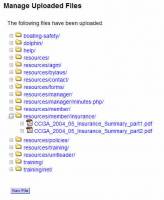 Tree-view in action
Iīve been busy plugging away at improving user interface again and have come up with another new component - Tree View - which allows me to display lists of data in a similar way to a file explorer. In most cases Iīm using it for the same thing on-line - but it will also soon form the basis for menu systems as well.
A few weeks ago when I started working on the Document Library module I knew I would need something like this to make it work well - but didnīt get around to crossing that
Bridge
until this last weekend. Iīm pretty pleased with the result: an Object Oriented bit of PHP and Javascript that can handle an unlimited number and depth of tree-nodes and display both in-line and external content.
Later Iīll try to tackle adding AJAX and see if I can make it load content dynamically as well - but thatīs for later.
---
RSS feed
Feed Description
All News RSS feed
Complete RSS feed
Bosunīs Log
RSS feed for: Bosunīs Log
A Rich Site Summary (RSS) feed is an xml data file that provides a summary of the information contained here. It is not designed to be viewed in your browser, but instead by rss reader software. If you do not know what this means - you can safely ignore it, as it is provided for advanced users with rss reader software only.