April 3rd, 2007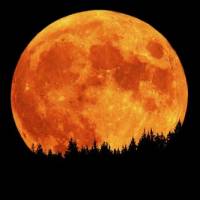 Monday nights are our typical Coast Guard Auxiliary training nights and yesterday was no exception. We went out training for 2 hours on the water to complete some
Navigation
exercises that were canceled 2 weeks ago due to weather. Throughout most of this we were treated to the most magnificently harvest moon...
This full moon will appear almost 12 percent bigger than some of the full moons this year apparently (I didnīt realize that until I went searching this morning) Regardless of itīs apparent size as we were transiting around Thormanby Is we cleared a hill and were all treated with seeing this crimson red moon rising over the silhouette of the Island.
The eveningīs run was all based on
Navigation
using the
Chart
and
GPS
only - planning for a
Chart
plotter failure and to ensure crews are well training in classical
Navigation
methods. The moon was an added bonus!
On a very different topic - I heard this morning on the radio that today is the anniversary of the 1996 NBA Basketball game in which the then Vancouver Grizzlies broke their record setting loosing streak to
Beat
Minnesota - why am I going into all this? Because I was score keeping that game! - in fact it was the last NBA basketball game I ever score kept.
---
RSS feed
Feed Description
All News RSS feed
Complete RSS feed
Bosunīs Log
RSS feed for: Bosunīs Log
A Rich Site Summary (RSS) feed is an xml data file that provides a summary of the information contained here. It is not designed to be viewed in your browser, but instead by rss reader software. If you do not know what this means - you can safely ignore it, as it is provided for advanced users with rss reader software only.