April 2nd, 2007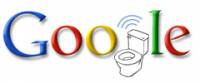 Modified Google Logo
This year I think Google wins for Best April Fools Prank with TiSP (The Toilet Internet Service Protocol) They went all out promoting wireless Internet through household plumbing including an entire web site devoted to the hoax! Now, why canīt more companies take a lighter approach to life like this...
The modified Google logo and some of the "diagrams" are shown here. Iīve included a link to the main TiSP page - but Iīm not sure how long theyīll leave that active. What a lark!
I think my favorite quote is taken from the TiSP FAQ:
Why is TiSP in beta?
When things go wrong with TiSP, they go very,
very
wrong. Letīs leave it at that.
---
RSS feed
Feed Description
All News RSS feed
Complete RSS feed
Bosunīs Log
RSS feed for: Bosunīs Log
A Rich Site Summary (RSS) feed is an xml data file that provides a summary of the information contained here. It is not designed to be viewed in your browser, but instead by rss reader software. If you do not know what this means - you can safely ignore it, as it is provided for advanced users with rss reader software only.