March 20th, 2007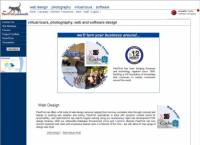 PawPrint.net Web Site
As a web designer, it seems that updating my own web site is always the last of the list of tasks and from speaking to other web designers around the world it seems this is a common thread. However, bucking tradition, I finally made a major update to my own site...
http://www.pawprint.net
is my web, graphic, media, and software design firm and an update of the
web design
section was well past due. I hadnīt updated too much of the information there in almost 2 years! so I spent the day Sunday working through a major update. At least I now have all the web modules from the
XDe
posted, so people truly know what is available.
Apart from being glued to the computer all weekend I spent a bit of time preparing for teaching the towing lecture at Monday nightīs weekly Coast Guard Auxiliary training meeting. We had tried conducting mini-courses rather then having a weekly meeting, but reverted to a weekly training meeting instead after attendance dropped off a bit.
Finally, Kellei and I actually booked our tickets to the International Maritime Rescue Conference in Sweden this June! So weīre definitely going - more on that later.
---
RSS feed
Feed Description
All News RSS feed
Complete RSS feed
Bosunīs Log
RSS feed for: Bosunīs Log
A Rich Site Summary (RSS) feed is an xml data file that provides a summary of the information contained here. It is not designed to be viewed in your browser, but instead by rss reader software. If you do not know what this means - you can safely ignore it, as it is provided for advanced users with rss reader software only.