February 22nd, 2007
Itīs that time of year again. This weekend is the 2007 Canadian Coast Guard Auxiliary - Pacific Annual General Conference and Training Day. Kellei and I are off to attend as usual, helping out in various ways and looking
Forward
to meeting more CCGA-P members and representatives from other
SAR
communities around the world...
Kellei has her work cut out as the official photographer - always a challenge, especially for the Awards Banquet. She also needs to float around during the entire weekend and try to snap as many candids as possible.
Iīll be conducting a workshop on the
SAR Management System
on Friday evening and then manning an information booth all day Saturday.
Together weīll probably also end up answering quite a few questions
About
the CCGA-Pīs new
Small Vessel Training Simulator
which we recently return from testing in St. Johns.
Itīs always a fun weekend bu tends to be a bit exhausting - especially after spending the weeks leading up to it preparing all the materials we might need.
---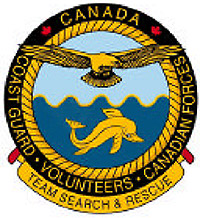 Team SAR Crest
RSS feed
Feed Description
All News RSS feed
Complete RSS feed
Bosunīs Log
RSS feed for: Bosunīs Log
A Rich Site Summary (RSS) feed is an xml data file that provides a summary of the information contained here. It is not designed to be viewed in your browser, but instead by rss reader software. If you do not know what this means - you can safely ignore it, as it is provided for advanced users with rss reader software only.