September 5th, 2005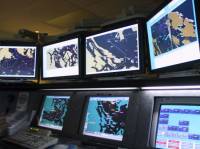 Victoria MCTS Dashboard
Our trip to Merry Island Yesterday was fascinating - however
very
wet! It was like tropical rain (big - and lots of it) We have been having some fairly intense local systems rambling through - which, I imagine, is the reason for this somewhat unusual forecast:
"Small craft warning in effect. Winds variable 5 to 10 knots easing to light this afternoon. A few showers and isolated thunderstorms ending early this evening. Risk of a waterspout with local strong winds early this evening. Outlook. Light to moderate variable winds."
Iīve actually seen a waterspout in these parts before, so itīs not unheard of - but fairly rare. I didnīt hear any reports that the forecast came to pass though.
Back
to Merry Island: Iīm sure we will be able to collect some great heirlooms to help raise funds for Unit 12 - so we have a plan to return later this week and help out the Museum transport their items of historic relevance off the island as well.
I did get a chance to chat with my good friends Simon and Kim yesterday. We all met through the
CCGA
, Simon and Kim having joined our unit for
About
8 months. They are now on their way off to Sidney Nova Scotia to attend the Canadian Coast Guard
MCTS
operator
Course
- effectively they are learning how to be the people on the transmitting end of "Victoria/Comox/Tofino/etc Coast Guard Radio" - todayīs photo is courtesy of them.
Simon has been talking
About
Starting
a blog of his own to relate their experiences while they are in NS. So I offered him some space here on the Mate to do so - Iīll keep you all posted. If nothing else, Kellei and I will connect up with them again during
ISAR
when we are
Back
in Halifax - so Iīll post an update on their progress then.
---
RSS feed
Feed Description
All News RSS feed
Complete RSS feed
Bosunīs Log
RSS feed for: Bosunīs Log
A Rich Site Summary (RSS) feed is an xml data file that provides a summary of the information contained here. It is not designed to be viewed in your browser, but instead by rss reader software. If you do not know what this means - you can safely ignore it, as it is provided for advanced users with rss reader software only.