September 4th, 2005
Sechelt BC, Canada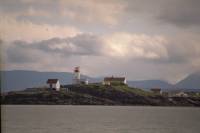 Merry Island, BC
If you have ever listened to the
VHF
radio weather in BC then youīre hear the name Merry Island. One of the better known lightstations in BC, not only is it one of the standard reference points for marine weather - it also forms the easternmost reference for the delineation between Victoria Coast Guard Radio and Comox Coast Guard Radio territories. It also happens to be directly out from where our
CCGA
Boat
is based.
The island itself (not the lightstation - which is located on its southern tip) is for sale. Our Unit has been given the unique opportunity to meet with the
Current
owner and tour the historic cabins on the island along with some members of the Sunshine Coast Museum. Further, we have been given the fantastic opportunity to take away and sell (to help raise funds) anything from the cabins that the museum isnīt interested in.
So - of
Course
- weīre there!
Iīve never actually been ashore there - although we know the lightkeepers well - they are grand supporters and friends of the unit. So Iīm really looking
Forward
to the trip. Iīm currently the duty coxswain so I canīt venture too far inland (must be ready for a call being the long weekend and all) but Iīm sure weīll get a chance to have a good look around nonetheless.
Iīll post tomorrow
About
what we find and where and when the sale of an interesting items will take place - most likely coincident with our new vessel dedication on Sept 17th.
PS: Happy Birthday to the Province of Saskatchewan - 100 years old today.
---
RSS feed
Feed Description
All News RSS feed
Complete RSS feed
Bosunīs Log
RSS feed for: Bosunīs Log
A Rich Site Summary (RSS) feed is an xml data file that provides a summary of the information contained here. It is not designed to be viewed in your browser, but instead by rss reader software. If you do not know what this means - you can safely ignore it, as it is provided for advanced users with rss reader software only.