November 17th, 2006
Iīm almost done a huge update to the TrackNav system in place here on bosunsmate.org The enhanced version includes loads of new features that should make it more detailed, faster, and with smaller images...
Some of the upgrades include:
Anti-Aliased images
Switch from PNG to JPG and cut the image size down by a factor of 10
Auto best-map selection - use the most detailed Chart from the onces currently loaded on the site
User Route Management for route owners
Use memcaching (better performance)
Thatīs some of the major ones anyway. I need to re-plot most of the existing images because of the format change from PNG to JPG and that is going to tax the server a bit so Iīll be waiting for a late night maintenance window to make the change - but you should see the new version on-line in the next few days.
---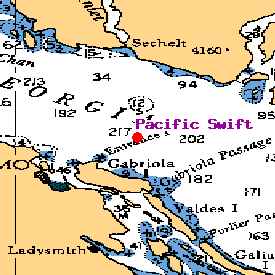 Sample plot from new TrackNav
RSS feed
Feed Description
All News RSS feed
Complete RSS feed
Bosunīs Log
RSS feed for: Bosunīs Log
A Rich Site Summary (RSS) feed is an xml data file that provides a summary of the information contained here. It is not designed to be viewed in your browser, but instead by rss reader software. If you do not know what this means - you can safely ignore it, as it is provided for advanced users with rss reader software only.