November 8th, 2006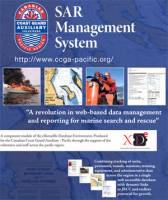 It seems that before any marketing or even significant articles the
SAR
Management System (
SMS
) developed by yours truly is gaining some international interest...
When I started the project it was just supposed to eliminate the troublesome paperwork that I personally didnīt want to waste time filling out - well that was
About
2 years ago - now itīs grown into this huge 30,000
Lines
of code system that looks poised to change the face of marine
SAR
world wide!
Not that I mind - I love it when stuff I can create has a positive effect and especially when that effect can expend beyond the initial scope we expected.
So where is this international interest? well in the last 2 weeks Iīve received emails via my
http://www.sarmanagementsystem.com
web site from both New Zealand and Australia asking for more information
About
the system. Obviously nothing firm at this point - but even receiving inquiries after we havenīt really even done any marketing is a significant statement
About
the need for something like this.
I also know that there is a move afoot to look at implementing the
SMS
across Canada for the Coast Guard Auxiliary and there is even interest from the Coast Guard
Anyway - itīs all pretty exciting for Kellei and I - and Iīll do my best to keep you posted.
I must also blame all of this for my lack of recent posts - all this interest along with training the local office staff and enhancing the system is keeping us fairly busy.
---
RSS feed
Feed Description
All News RSS feed
Complete RSS feed
Bosunīs Log
RSS feed for: Bosunīs Log
A Rich Site Summary (RSS) feed is an xml data file that provides a summary of the information contained here. It is not designed to be viewed in your browser, but instead by rss reader software. If you do not know what this means - you can safely ignore it, as it is provided for advanced users with rss reader software only.