October 1st, 2006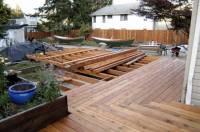 The last week has basically been a juggling act between working outside on the
Deck
and trying to keep caught up with regular work before I leave for SARSCENE (more to follow) But weīre making great progress on the
Deck
- which was christened by the rain last night...
We have basically all the decking that has been prepped thus far laid down and attached in place (weīre using "Deck Clips" that donīt show any visible surface nailing/screwing) and itīs looking wonderful.
The rain last night was a good test, both for the
Deck
and the new roof on our sun-room off the kitchen.
Next weīre going to try and complete extensions to the structure so that Kellei and keep blitzing on this thing while Iīm away. But at least weīve got to the point where one can walk from the kitchen to the bedroom and never step off finished
Deck
!
---
More Images
---
RSS feed
Feed Description
All News RSS feed
Complete RSS feed
Bosunīs Log
RSS feed for: Bosunīs Log
A Rich Site Summary (RSS) feed is an xml data file that provides a summary of the information contained here. It is not designed to be viewed in your browser, but instead by rss reader software. If you do not know what this means - you can safely ignore it, as it is provided for advanced users with rss reader software only.