June 10th, 2006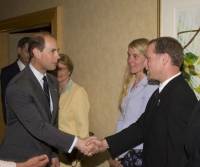 Meeting HRH the Prince Edward
Through my association with the Duke of Edinburgh´s Award in Canada I have had the occasion to meet several members of the Royal Family over th years, HRH The Prince Edward being the most common (
About
10 times now...)
This latest was for an unprecidented two Gold Award presentation ceremonies held in Vancouver on the same day (June 7th) and it was extra special because Kellei and I were able to be introduced together.
It was a fun day for both of us as we helped out with the ceremonies. Awards were presented to
About
226 young Canadians upon achieveing their gold award (see
http://www.goldaward.org
) for details. As the president of the Gold Award Society I was part of the platform party, probably for the last time as I plan to soon resign from that position - but it was, as always, rewarding to witness so many of our countries next generation of leaders coming
Forward
to be acknowledged for their accomplishments.
---
More Images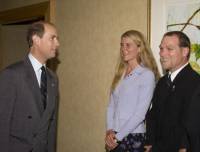 ---
RSS feed
Feed Description
All News RSS feed
Complete RSS feed
Bosun´s Log
RSS feed for: Bosun´s Log
A Rich Site Summary (RSS) feed is an xml data file that provides a summary of the information contained here. It is not designed to be viewed in your browser, but instead by rss reader software. If you do not know what this means - you can safely ignore it, as it is provided for advanced users with rss reader software only.