May 14th, 2006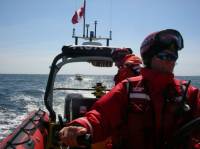 Kellei at the helm - towing the vessel
Itīs that time of year again... things always pick up in the summer and this season is not looking like any exception. SInce Kellei leaves for
RHIOT
on Tuesday we have been out training a lot. Yesterday was supposed to be a 2 hour slow
Boat
handling training session - we ended up with much more then we planned - but it was all good!
We had just completed training using out new slolam
Course
in a small cove and had moved over to the Halfmoon Bay Gov.
Dock
to give everyone some docking practise before calling it a day when we overheard a sailing vessel reporting a 21ī
Boat
Adrift
About
2nm SE of White Islts. Our coverage area for
SAR
ends at White Islts - so it was slightly our of our area. Shortly thereafter it was upgraded to a Maday Relay by
CCG
Radio for fear that may have been a person
Overboard
. We responded.
As an asside - it is often a vessel that is already on the water that is first to respond to a Maday - not that others donīt come, just always seems to work that way.
Anyway,
About
5 minutes en-route (it was
About
15 mins away at 40Knots) the distress was cancelled when the vessel was found to be the same that had been hard
Aground
the previous night.
JRCC
asked us to proceed anyway,
Secure
the vessel, and tow it
Back
to our base at Secret Cove, so the owner could come and get it.
Kellei had been asking all day to try aone more towing hook-up before going to
RHIOT
- this was just perfect. So we got the vessel under tow and proceeded to tow it
Back
in 3ī seas to Secret Cove. it took close to 3 hours because of the
Chop
- but all went very well and Kellei even got to take the vessel
Alongside
for docking - a tricky manoevure and excellent practise.
A couple of things made this trip somewhat unique... first, the other crew member - Adam had been out trainign with us lots, but this was his first actual call. We were treated to some Dhals Porpoises playing in our
Bow
Wake
during the tow (unfortunately not for long - a Zodiac 753 really dosnīt have muct of a
Bow
Wake
and they got
Board
quickly) and finally, just as we were entering Secret Cove - a HUGE converted tug was pulling out... The 110ī
St. Eval
Original refit designed by KFD as a luxury VIP platform for the Blue Arrow Americaīs Cup Challenge Group. Later purchased by the Montana based Washington Corporation, who asked Ken Freivokh Design to develop further and more luxurious guest accommodation. The new owner bought the foremost tugging company in Vancouver with the exclusive purpose of providing a suitable setting for this amazing
Yacht
.
Pretty Skookum Saturday - if I do say so myself!
---
RSS feed
Feed Description
All News RSS feed
Complete RSS feed
Bosunīs Log
RSS feed for: Bosunīs Log
A Rich Site Summary (RSS) feed is an xml data file that provides a summary of the information contained here. It is not designed to be viewed in your browser, but instead by rss reader software. If you do not know what this means - you can safely ignore it, as it is provided for advanced users with rss reader software only.