April 9th, 2006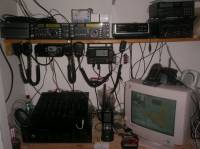 a Horible photo - but it shows my little station
After the new radio and antennas there was a bit of
Rigging
to complete to get the whole system up and running the way I want it. After a few hours work today - Iīm met most of my goals...
Iīm, pretty busy with work at the moment - so I have been fitting this in when I need a break, time to think, etc...
The plan was to get the
VHF
,
GPS
, and Nobeltec on the PC all talking to that when a
DSC
comes in Iīll get a plot on the
Chart
- I got 75% of that working ;)
The
GPS
is just a little hand help Garmin eTrex Vista, and I never bought the power adaptor for it - but no worries I rigged it using a single filament of wire-wrap wite taped in place (the make the contacts flat to prevent this I believe) anyway with that set-up I can now leave it on all the time using an AC power source (currently a variable lab power supply - but Iīll find a 3V wall wort soon)
I then created a custom
Cable
for the output of the data adaptor (which I did have) and got that into the NEMA input for my new
VHF
- bingo - Lat/Long on the
GPS
and a URGENCY
DSC
came in within 2 hours of that working (vessel
Aground
in Agamemnon
Channel
)
Next, I was hoping to use the VHFīs NEMA out as a repeater for the NEMA from the
GPS
- but unfortunately the
VHF
only transmits NEMA when there is a
DSC
Distress Alert - not all the time :( so Iīll eventually need to rig a second serial
Port
into my PC to get the
DSC
alerts. For now I just spliced into the NEMA from the
GPS
and have that going into Nobeltec - just to give it a signal and prove the concept.
So iīm happy for the moment - and ready to watch what happens as sun continues to bring out the boaters... should be an interesting summer.
---
RSS feed
Feed Description
All News RSS feed
Complete RSS feed
Bosunīs Log
RSS feed for: Bosunīs Log
A Rich Site Summary (RSS) feed is an xml data file that provides a summary of the information contained here. It is not designed to be viewed in your browser, but instead by rss reader software. If you do not know what this means - you can safely ignore it, as it is provided for advanced users with rss reader software only.