February 27th, 2006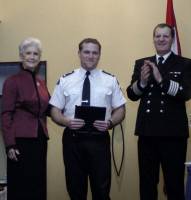 Lieutenant Governor of British Columbia Iona V. Campagnolo, Scott Baker, CCGA-P President Malcolm Dunderdale
Receiving a Commendation from the CCGA-P, a highlight of the weekend, of
Course
it was! But far from the only one. The 2006 CCGA-P AGM was loaded with excitement, information, and good clean fun!
Day 1:
The Tradeshow
, saw many CCGA-P members discovering the
SAR
Management system for the first time. The reception was wonderful and as people started to realize what is now possible the booth that the CCGA-P had created for me to answer questions started to get crowded. The evening finished off with a group of the CCGA-P staff and some of the volunteers that had helped from the start enjoy a late night dinner and drink in the lounge. We were all very tired and had the giggles - so it was loads of fun.
Day 2:
The Training Day
, after breakfast the entire delegation was presented with an overview of the days events. I was able to show the
SMS
overview video for the first time - again to an outstanding reception. As is typicazl when Iīm giving a short talk I couldnīt really gauge the reception of those present - but Kellei assures me it went very well. Other presenters presented various topics before we broke out into three sessions throughout the day when I had a chance with three seperate groups to go oover several aspects of the
SMS
in more detail. Some excellent questions made it clear that people were
Starting
to think
About
the posibilities and I believe Iīm going to hear a lot in the future abouit ways it can be improved! It was a fantastic day - I must have been stopped
About
20 times by people thanking me for the
SMS
and happy
About
how much of a positive impact that could see if will have. Throughout all of this Kellei was busy taking photos of everything (something Iīve spent much of the day today prepping and posting to the CCGA-P web site)
Day 2:
The Awards Banquet
, I joined Kellei as official photographer for the Awards portion of the day and after a quick change into more formal attire we shifted into the evening. Iona V. Campagnolo, the Lieutenant Governor of British Columbia was the guest of honour and was piped in by a surprisingly young piper who made a flawless performance. Dinner was splended and the awards begain shortly thereafter. It was a bit odd for me to have to drop the camera and pop-up to the podium to receive an award. I was very honoured by the reception throughout the AGM - borderline embarassed by how much everyone was thanking me for the
SMS
. The certificate of commendation I received will always remain a highlight for me. At least 5 people baught me drinks that night - which was also very nice, but made for a rough start top Day 3!
Day 3:
The Business Meeting
, what can you say - it was a fairly standard agm business meeting (blah blah blah, all in favour, blah blah blah) but after a coffee break the
Board
facilitated a Q&A session with everyone present regarding anything to do with the direction of the
CCGA
that was
very
well received.
Kellei and I finished off our AGM experience with a meeting with Gerry Keeling of the International Lifeboat Federation (soon to be called the International Marine Rescue Association) whose web site I also developed via contacts from the CCGA-P. We met to look at the future of that web site and discuss a bit more
About
its development.
Itīs good to be home - it was an exhusting weekend (Iīm not even going through everything here - cuz there was just too much)
---
RSS feed
Feed Description
All News RSS feed
Complete RSS feed
Bosunīs Log
RSS feed for: Bosunīs Log
A Rich Site Summary (RSS) feed is an xml data file that provides a summary of the information contained here. It is not designed to be viewed in your browser, but instead by rss reader software. If you do not know what this means - you can safely ignore it, as it is provided for advanced users with rss reader software only.