February 17th, 2006
Went out for training last night - a few man
Overboard
/recovery drills in the dark are always worthwhile - the interesting stuff happened when we got
Back
to the
Boat
house...
We were just
About
the leave when Kellei noticed something swimming around in the water near the
Boat
. We all caught a brief glimpse of it and were initially under the impression it was some kind of squid - but when we got a chance to look at it further realized that it was a worm of some sort.
The attempts to grab a photo of the beastie for later identification where many - and the image
Below
was the best we could manage.
At home we scoured through Kelleiīs dive books and couldnīt come up with anything - so, should anyone be able to identify this little guy - please let me know!
---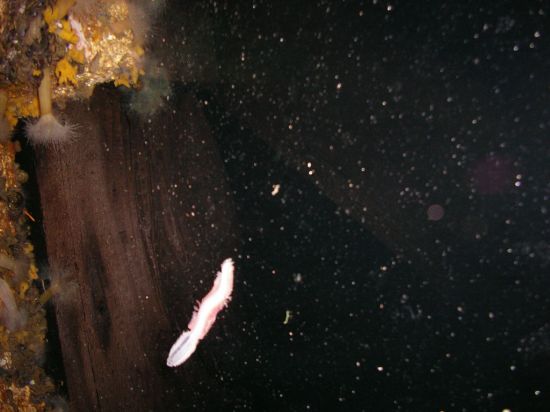 The critter in question...
RSS feed
Feed Description
All News RSS feed
Complete RSS feed
Bosunīs Log
RSS feed for: Bosunīs Log
A Rich Site Summary (RSS) feed is an xml data file that provides a summary of the information contained here. It is not designed to be viewed in your browser, but instead by rss reader software. If you do not know what this means - you can safely ignore it, as it is provided for advanced users with rss reader software only.