August 27th, 2005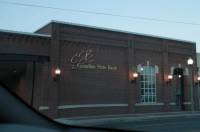 and they say the US isnīt trying to take over Canada
Tomorrow I leave for Oklahoma - the photo was taken the last time I was there. Each day we drove for several miles through very small towns to get to the telephone company where I was consulting - each day we would pass this bank - located in "Canadian County" which, being Canadian myself, we far too good to let pass without a photo.
You will also notice that I have added the ability for members to add comments. Please feel free to add your thoughts to my diatribes - the system automatically adds a forum topic when someone does so, so people can discuss issues relating to an entry in the BLOG either here or in the forum.
Iīm not sure if Iīll be able to keep making posts when Iīm in Oklahoma - Iīve been assured of having net access - so I should be ok - time will tell.
Finally - Iīm going to vent my frustrations - well, what good is a BLOG if I canīt vent from time to time!
<vent>
Iīm a bit annoyed with my local newspaper. The story of our house fire was, of
Course
, front page news for the Sunshine Coast - someone even had a spectacular photo (must have
Beat
me to it) but all that is fine and was to be expected. What buggs me is that they wrote a two page story and never even contacted me, in fact they completely spelled Kelleiīs name wrong (Kellei is my fiancee for those that are new here) - Hereīs a link to the article
http://www.coastreporter.net/
but it will probably only be there for a week.
Itīs not like I feel our loss was more significant then the Stweards, but we did just loose our house - they could at least have given us a chance to tell our story - or even bothered to call and
Check
that they had the right name.
Ah well...
</vent>
---
RSS feed
Feed Description
All News RSS feed
Complete RSS feed
Bosunīs Log
RSS feed for: Bosunīs Log
A Rich Site Summary (RSS) feed is an xml data file that provides a summary of the information contained here. It is not designed to be viewed in your browser, but instead by rss reader software. If you do not know what this means - you can safely ignore it, as it is provided for advanced users with rss reader software only.