January 27th, 2006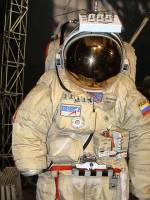 The Suit-SAT is almost ready
What do you do with an old space suit - well, throw it away of
Course
(but when you rig it up with HAM radio electronics and set it to transmit a download and throw it away in space - it becomes a Satelite!
No, Serious - they are doing it now in the ISS - some of you have probably already heard
About
it. Being a HAM myself - the whole thing is fascinating. I donīt have the correct type of antenna, but Iīll give it a go to detect the signal. I was thrilled once in University when I was able to speak with the crew of Atlantis during a Shuttle mission (albeit for
About
2 setances each way) Still, it was pretty cool going to the next class and calmly replying when asked what I was doing before that I was just speaking with the Shuttle...
Here are a few info links for you:
http://science.nasa.gov/headlines/y2006/26jan_suitsat.htm
http://www.amsat.org/amsat-new/articles/BauerSuitsat/index.php
http://www.ultimatecharger.com/SSTV.html
---
RSS feed
Feed Description
All News RSS feed
Complete RSS feed
Bosunīs Log
RSS feed for: Bosunīs Log
A Rich Site Summary (RSS) feed is an xml data file that provides a summary of the information contained here. It is not designed to be viewed in your browser, but instead by rss reader software. If you do not know what this means - you can safely ignore it, as it is provided for advanced users with rss reader software only.