Frost Feathers
Frost Feathers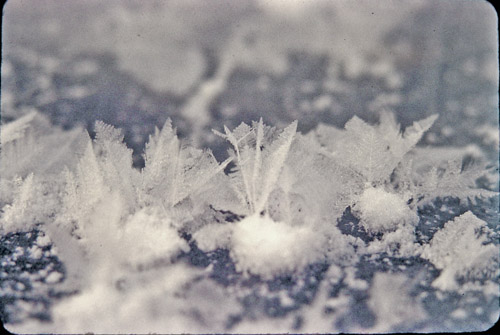 Not Rated
<< Previous Image
Album Contents
Next Image >>
From:

kpbosun

views 32767

Filename: frost feathersweb.jpg

These crystals form on raw ice during very cold nights when there is ample water vapor. I found them in the early morning on a lake, and got out the camera before the sun could hit them. They are about three quarters of an inch high. It has been many years since I took this photo, but, because it has reasonable depth of field, I expect that I used a 3.5X telephoto lens with a thin extension tube behind it.
RSS feed
Feed Description
Full RSS feed
Complete RSS feed
Commercial Shipping
RSS feed for: Commercial Shipping
Before Containers
RSS feed for: Before Containers
A Rich Site Summary (RSS) feed is an xml data file that provides a summary of the information contained here. It is not designed to be viewed in your browser, but instead by rss reader software. If you do not know what this means - you can safely ignore it, as it is provided for advanced users with rss reader software only.